Last updated Sep 23, 2006
Half the Pefect World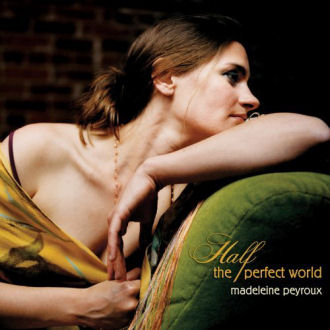 Released in US on Sept. 12, 2006
UK release, Nov. 6, 2006
Rounder Records
See reviews
1
2
3
4
5
6
7
8

9
10
11
12
13


| I'm All Right
| The Summer Wind
| Blue Alert
| Everybody's Talking
| River (with K.D. Lang)
| All I Need Is A Little Bit
| Once In A While
| (Looking For) The Heart Of
Saturday Night
| Half The Perfect World
| La Javanaise
| California Rain
| Smile
| I Think It's Going to Rain
(iTunes Bonus)

Madeleine Peyroux — Vocals, Acoustic Guitar
Dean Parks — Guitars
David Piltch — Bass
Jay Bellerose — Drummer
Scott Amendola — Drums
Sam Yahel — Keyboards
plus
Gary Foster — Saxophonist
Greg Leisz — Pedal Steel
Till Bronner — Trumpet
Larry Goldings — Celeste
The album is full of sublime moments.
Sung by a woman from a man's point of view, "Blue Alert" (written by Leonard Cohen and Anjani Thomas) is psychologically complex and erotically charged. This intertwining of genders "adds a depth to the song that wouldn't be there otherwise," Madeleine says.
The blending of Madeleine's and k.d. lang's distinctive voices on "River" puts an entirely new spin on the Joni Mitchell classic.
And Madeleine's vocal on Chaplin's "Smile" is reflected by Till Bronner's muted trumpet, forming the musical equivalent of a shadow thrown by a streetlamp.
Highlighting two of the album's songs, the Serge Gainsbourg standard "La Javanaise" and the original composition "Once in a While," are poignant string quartet arrangements courtesy of Mark Orton.